• A video showing a toddler kiss a lion through a glass partition at an Australian zoo has warmed hearts.
• Interestingly, The lion stood there watching  the toddler as he smilingly kissed the animal through the glass compartment
• An adult, recording the video, is heard telling the young child to tell the lion goodbye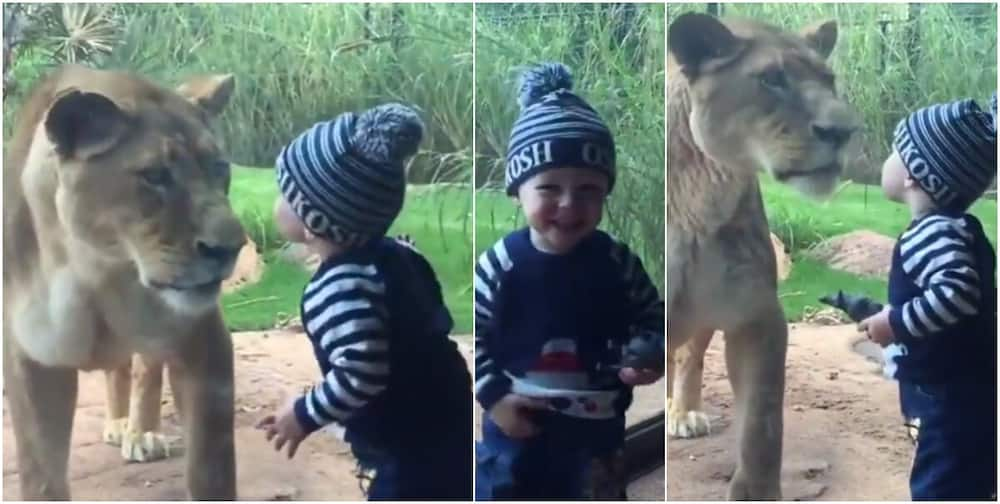 A video has been seen on social media in which a young child is seen kissing a lion through a glass enclosure at an Australian zoo.  In a clip that was posted on Twitter by The Sun, the lion appears to be staring curiously as the young child gives it a kiss through the glass compartment at Perth Zoo.
The person recording the video could distantly be heard instructing the child to tell the lion goodbye, and the toddler did exactly as instructed.
The innocence and pure hearts of children is what the video captured, these qualities are often exhibited by kids to show their admiration of adults
People, however, expressed their mixed reactions in the comment section of the post to show their impressions about the video.
Below; some of the reactions people expressed on the comment section of the video posted on the sun twitter handle.
@qliq, a Twitter user wrote; "and the lioness is thinking, why is there glass between me and dinner?"
Another twitter user, @steveashfield wrote, "Who would gladly tear him to pieces if given a chance?"
Toddler blows a kiss to his lion friend pic.twitter.com/bp1q9CMSZD

— The Sun (@TheSun) August 31, 2020