Hollywood actor Tom Cruise is well-known for being a daredevil which is the reason behind his astonishing stunts and that too without any stunts double in most of his movies. Tom Cruise has always shown his admiration for cars, motorcycles, and jet planes as well and this fact is well-documented. Coincidentally enough, his admiration can be seen when he performs larger than life action-packed sequences and that too on the upcoming iteration looks to feature BMW G310GS.
Iron Man and his Audis, James Bond, and his Classic Astons and Mission Impossible with BMW vehicles, are trademarks of these successful movies. Continuing the trademark, recently Tom Cruise was spotted riding a G310 GS Italian Polizei bike and viewers can't wait to hear its exhaust note in the upcoming Mission Impossible series with expectations for something extraordinary to happen, just like when Tom Cruise rode the R9T sounded like an S1000RR.
Motorcycles Tom Cruise rode as Captain Maverick and Ethan Hunt are now no less than Icons.
Here's a list of the motorcycles Tom Cruise rode in the Mission Impossible series:
Kawasaki GPZ900R – Top Gun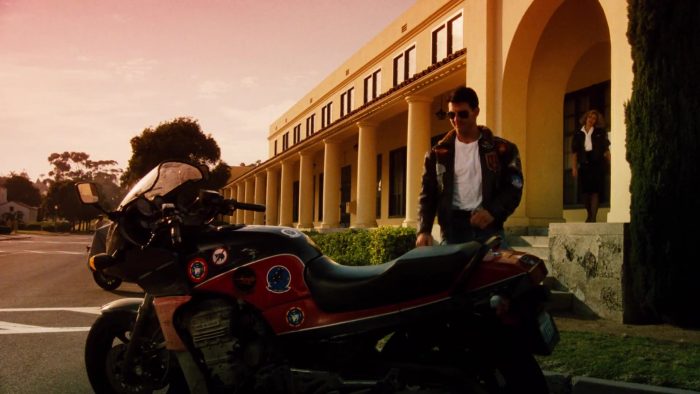 For decades Tom Cruise has included motorcycles in his movies one-way or another. Years before most of us were even born, Tom Cruise rode the Kawasaki GPZ900 in Top Gun 1986 as Captain Maverick. If you're into celebrities and stuff, this bike is no less a celebrity as Mr Cruise and it also graced the screen in Top Gun 2.
Kawasaki H2 – Top Gun 2
Let's continue with Top Gun 2 as the GPZ900R graced the screens in 1986, when it was one of the fastest produced motorcycles in its time. Matter of fact, Maverick had to ride one of the fastest produced motorcycles of its time and age. Hence, it's the supercharged Kawasaki H2. The best part of seeing this beauty on the screen sharing the screen with Tom Cruise was, Tom Cruise rode it for most of the scenes himself.
BMW R nine T Scrambler – Mission Impossible Fallout
Who watches Mission Impossible and does not love the iconic chase scenes of Mission Impossible movies. MI: Fallout had Tom Cruise riding a BMW R nine T Scrambler on the streets of Paris and soaring around Arc de Triomphe against the traffic flowing next to him. Fun Fact: the chase scene was tracked using an electric bike.
BMW S1000RR – Mission Impossible Rogue Nation
This was probably one of the coolest chase scenes from all the Mission Impossible movies combined (that's if you're not still applauding the 2000 Mission Impossible 2 and Tom Cruise riding it). Though Rogue Nation was loaded with plenty of BMW Motorrad's, there's no doubt in agreeing we all loved the crooked-faced S1000RR and Tom Cruise doing high-speed corner defying gravity scenes on it.