Yes, this time we have a saviour's story on how a neglected puppy became important for someone else. Our hero is a garbage truck driver who happens to be quite observant, and managed to see a discarded dog before it would be too late for the little one. He not only saved the dog, but found a new friend as well.
Aaron Kinsel works for the Rumpke Waste & Recycling as a truck driver, and was on his normal routine through Colerain Township in Ohio on a normal Wednesday morning when he noticed something unusual.
He noticed a discarded backpack on the side of the road, and what actually got his attention was, its moving, like something was inside it. He decided to stop and have a look, and found a 10-week mix boxer puppy in the bag.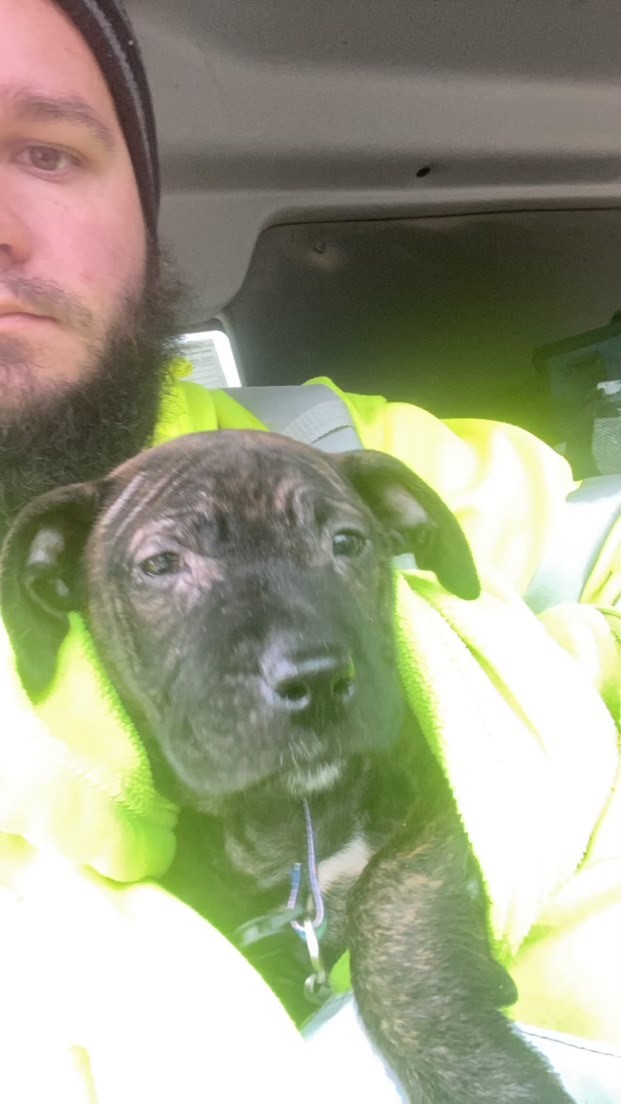 Aaron instantly connected with the little angel, and took her safely back to his truck.
After taking her to the vet, he found she's suffering from dehydration and has a broken leg. According to the press release from the company, Aaron took her to a vet to know if she needed any help, and thankfully he took her in time.
He told WLWT he felt the dog had a releived look on her fave when she saw him, and he has formed a special bond with her the moment he picked her.
In a press release he said, he feels like he was meant to find her.
He's named the dog Tipper (it's the part of the truck that helps pick up trash containers), which Rumpke calls their "driver's helper."
According to a report by WLWT, Tipper is suffering from a fractured hip and knee. Which, unfortunately means her leg will be amputated, but since she's still a pup, she can adapt to walking on three legs as surgery could cause complications.
Good news: Rumpke has offered to cover Tipper's medical expenses, and the best news of all: Aaron has decided to adopt the little angel.
Aaron is trying his best in making Tipper part of his family.
The person responsible for Tipper's condition is still not identified, though police are investigating the case.
Thank god for people like Aaron, dogs like Tipper can live a happy and safe life with love.