And the best way to do it is to play on a twister. But regular twisters are boring as it can only adjust 2- 3 people. What if you have a group of ten people? Well, though, one can enjoy the dot game or aka twister with your loved one with an inflatable outdoor color dot game. It is not like any ordinary twister, which will challenge to play on. It is an inflatable twister. It will be so fluffy to use, while it makes your outdoor game session fun. It also comes with a spun wheel to determine which foot or hand will go on which color dot. This game is used by family and friends for outdoor activities to have fun by playing games.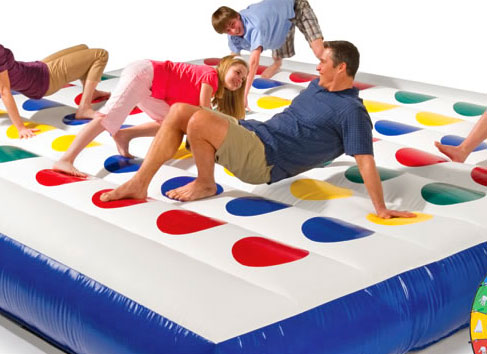 Features
Well, inflatable color dot game is a perfect way to enjoy outside with your friends or family. And remember the summer of the '60's where young people used to enjoy at that time. Some of the key features of this product are as follows:
Size of the product: It is a 15 by 15 mat made up of material vinyl.
What does it includes: It includes the double-stitched vinyl material mat. With 64 color dots arranged in eight rows. Each row has eight dots. It also consists of a wheel spun of 24" diameter, which tells which foot or hand will touch the next color.
Maximum people who can use the product at once: It can carry up to 10 people.
Maximum weight in can handle: It can handle up to 1500 pounds.
What is the category of the product: It comes under the category of toy and games. Perfect for teenagers and adults too.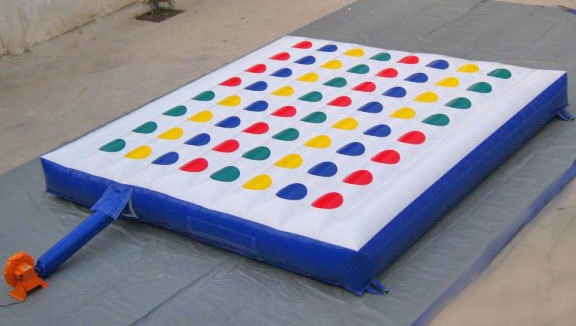 Pros
Fun and easy to use
Thick and good material
Can handle ten people
Can carry up to 1500 pound
Appropriate for children and teenagers
Adults can also use it
Great gifting option
Comes with a spun wheel
Perfect for parties
Cons
The game is time-consuming
Not suitable for toddlers or little children
Final Verdict
The inflatable color dot game is an updated version of a famous play of '60s, and that is a twister. It is a perfect way to create a bond with your loved ones and enjoy a day outdoors. It consists of a 15 by 15 mat, which is inflatable. It has 64 color dots, and a wheel spun to play the game easily. Overall, it is a fun way to enjoy the day. As it made of thick material, you can easily rely on it as it can carry up to 1500 pounds. Also, it is a great way to stretch your body. Often these games are healthier then video games as they are more damaging. After playing on an inflatable color dot game, the kid will feel more energetic and fun. It is a perfect gift for anyone who loves fun or someone who is 13 or above.
Buying link: Here