Disturbing the peace is what it could sound like when you encounter a person seated on the streets, banging paint buckets,  this is the kind of thing you call the police for, but this is not the case in Sydney, Australia, road users admire the skills portrayed by Gordo the drummer as he drums the buckets on the streets, some even interrupt their normal activities just to stand and watch in admiration his amazing and exciting drumming skills.
       Even though there are many artists out there who are exceptionally talented busking on the street, only a few of them tend to capture our attention. Most of the time, when we are walking in the streets or when we are rushing to work, we are often less concerned with what we see around us hence we cant spare a minute, stop and have a little interaction with the happenings—or maybe, we don't often have the chance to stop.
This exceptionally talented gentleman 'Gordo Drummer' is a brilliant street drummer who plays, recyclable buckets. He practiced his outstanding drumming skills in Japan.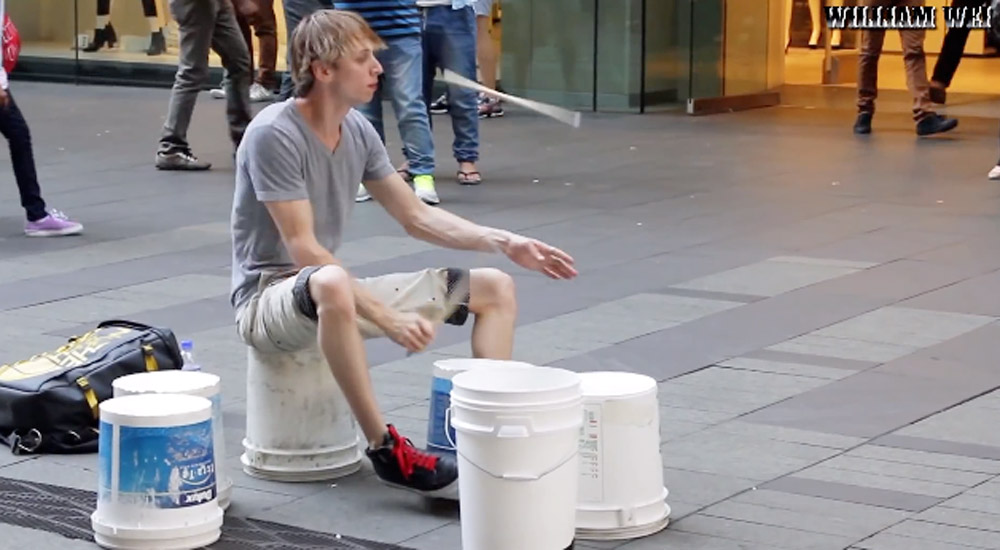 Gordo has a special method that makes drumming look effortless. The only instruments at his disposal are; the drumsticks, paint buckets, the floor, and his feet which he uses to create such amazing sounds. He showcases his performances s in different areas around Sydney including streets, parties, and private occasions. He also provides musical education to those interested in his talents by outlining the basics of drumming with buckets by offering online tutorials.
Gordo demonstrates that talent cannot be limited by the lack of resources, If you are an artist, everything that surrounds you is a medium to exploit your talents to the maximum, and if you are a drummer, a professional kit is not a must for music creation.
For example, Gordo the Australian drummer Full of strength and enthusiasm for his craft uses paint buckets and bangs them in rhythm to create unique drumming beats and musical sounds. This has earned him a great reputation with gaining over 160 million views on Youtube.
He is often seen with his buckets busking on the streets of Sydney, Australia attracting huge crowds whenever he begins to play.
Gordo, who studied drumming in Japan, attracts huge crowds by beating on a combination of empty paint buckets with superhuman speed and precision. He has the main bucket, which he controls with his feet, by shifting it. Lifting it up makes it serve as a bass drum; putting it flat on the ground and it's a snare. The different combinations of buckets give out different timbres of rim shots.
The crowd tends to love it when it gets more furious and exciting with Gordo twirling and tossing sticks in the air, even going under his leg without missing a single beat.
Out of drumming buckets he has now made a career for himself- and it has taken him all the way to Japan, where he now lives.
"What shocks me the most is the number of ideas other people possess about the use of buckets," Gordo said.
Above; Video of Gordo 'bucket drumming' on the streets of Sydney.