Churchill painted the artwork while he was attending the Casablanca Conference in January 1943. He gave the artwork to US President Franklin D. Roosevelt. Brad Pitt bought the painting in 2011 from a renowned antiques dealer called M. S. Rau for Angelina Jolie. The couple parted ways in 2016 with the divorce still on-going.
Though representatives for Jolie and Pitt have not responded on the matter yet.
Churchill created the painting after attending the wartime summit, during which he and Roosevelt came up with the strategy to defeat Nazi Germany.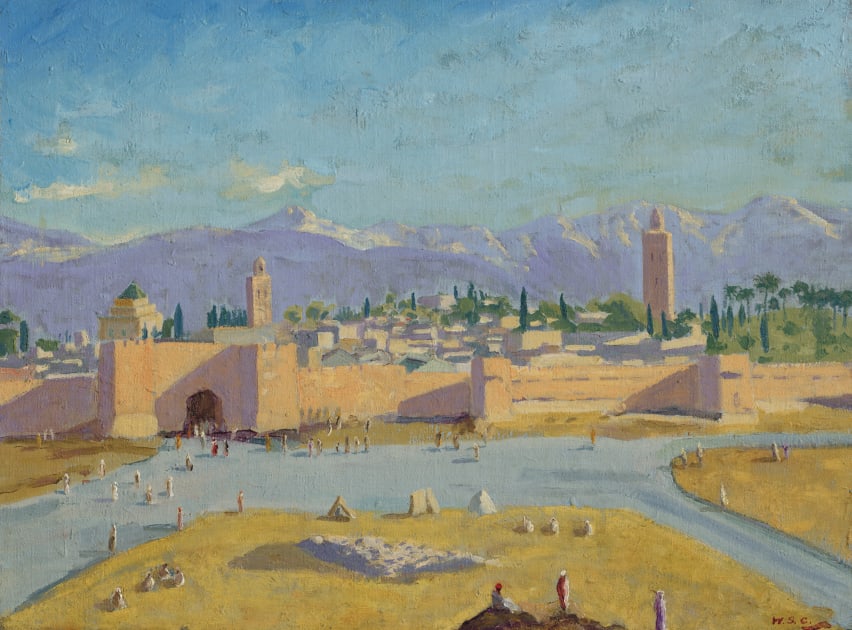 The painting is said to go on sale this year by Jolie as now it's part of her own artwork collection. The estimated price range of the painting is expected to be between £1.5 million to £2.5 million ($2 million to $3.4 million).
According to insider reports, it's the only painting Churchill painted during the war. Assumptions are the painting probably is encouraged by the recent progress the Allies made in one of the most beautiful countries he personally traveled to.
Bill Rau, an antiques dealer, said the painting has a long ownership history. He said the painting was a gift from Churchill to President Roosevelt's son, who later sold the painting to a filmmaker in the 60s. The painting was kept in the family closet of the family for more than 50 years, before the family's step-daughter inherited the artwork and contacted M. S. Rau to sell it.
Though Churchill has painted several other artworks in Morocco before the war broke out, this is the only known work by him painted between 1939 and 1945.
The painting of the "'Tower of the Koutoubia Mosque' is arguably the best painting by Winston Churchill as it holds a significant matter related to him, and the highlighting of the friendship the two leaders shared. The gifting symbolizes how important Churchill regarded their friendship, and also points towards their joint efforts in guiding the Allied forces during World War II.
The artwork will go on-sale on March 1st.