More than 100 vehicles were involved in a massive pile up on I-35, with multiple people trapped in their cars, according to a police report.
Authorities said in a confirmed report at 6 a.m, sixty-five people got injured in the crash. While, thirty-six people had to be transported from the scene, including three in critical condition, according to a police report. The other injured were taken to other hospitals nearby. Four officers were also injured while attending the casualties, and were taken to the area hospital and released after treatment.
The fire department also confirmed more than 100 vehicles were involved in the pile up while, Officer Daniel Segura of the Fort Worth Police, told during a news conference the massive pile up extended about a mile down.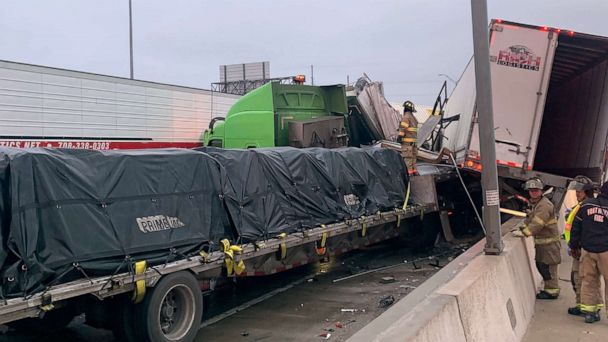 A spokesman told on behalf of the Fire Department the crew had to take help of tow trucks to disentangle the vehicles, and aldo said they went through one vehicle at a time to ensure every driver and passenger was extricated from the wreckage.
In one photo issued by the department a vehicle is seen pinned under a FedEx truck, and a firefighter is seen pulling a small dog to safety.
All victims of the crash are accessed as adults, no child casualty was reported.
The Fort Worth police said the ice is the likely factor for the cause of the accident. The recent freezing rain has caused the roads to become slick, according to a report.
Fort Worth Mayor Betsy Price tweeted saying her heart breaks out for the community as we come face-to-face with the extent of the loss we have experienced today. She also told how the community is pouring their support and with so many asking how they can help. In another message to the community she told right now Fort Worth needs your prayers for the injured, families, and the first responder.
The massive pile up has also brought back memories of the three deadliest interstate accidents that the US has witnessed.
The first was on May 14, 1988 when a drunk driver killed 27 people, 24 children included, near Carrollton, Kentucky.
The second is on Dec. 11, 1990 the fog caused an accident on Interstate 75 that killed 12 people in Calhoun, Tennessee.
The third was on Nov. 29, 1991 when a blinding dust storm became the reason for a crash on Interstate 5 near Coalinga, California that killed 17 people.