The death of a spouse is one of the hardest things you can deal with in life, especially when they pass away relatively young.
John Travolta and his family have been through a couple of very tough years. In 2020, his wife and mother to the couple's children, Kelly Preston, passed away from breast cancer.
As always, John has focused on being the best father he can be since then.
Through the years, Travolta evolved into one of the greatest actors of the century. Along the way, he met the love of his life, and together they created a wonderful family.
In 1992, following a proposal at the Palace Hotel restaurant in Gstaad, Switzerland the year before, John Travolta married Kelly Preston.
The couple tied the knot on September 5, 1991, in a secret ceremony at the Hotel de Crillon in Paris.
Kelly was born on October 13, 1962 in Honolulu, Hawaii, and like John, she worked in the film industry. She studied acting at the University of Southern California, and in 1985, she started her acting career, appearing in several major movies such as Mischief, Twins, Jerry Maguire, and For Love of the Game.
Preston had some minor television roles during the course of her career as well. In 2018, she starred in the film Gotti, which would be her final film role. In July 2020, Kelly died after being diagnosed with breast cancer.
She was 57.
"On the morning of July 12, 2020, Kelly Preston, adored wife, and mother, passed away following a two-year battle with breast cancer," a family representative told People at the time.
"She was a bright, beautiful, and loving soul who cared deeply about others and who brought life to everything she touched. Her family asks for your understanding of their need for privacy at this time."
It turned out that Kelly had kept her diagnosis private. Speaking on the British talk show Loose Woman, her co-star in Off the Rails – which was her last film role – Sally Phillips, said that they didn't know anything while filming.
"That's what people do—they go through it on their own because of worries about insurance for the film, and working again afterward," Phillips said, as reported by the Mirror.
"We've had a couple of high profile examples of that recently, haven't we? Chadwick [Boseman] and Helen McCrory didn't tell anyone," she added.
"She fought a courageous fight with the love and support of so many," Travolta wrote. "Kelly's love and life will always be remembered."
John Travolta wrote on Instagram: "My family and I will forever be grateful to her doctors and nurses at MD Anderson Cancer Center, all the medical centers that have helped, as well as her many friends and loved ones who have been by her side. Kelly's love and life will always be remembered."
In the same post, Travolta said he would be taking time to be with his family during the mourning process, particularly his children, 22-year-old  Ella and 11-year-old Ben. His first child with Kelly Preston, Jett, died of a seizure at 16.
Travolta and Preston were married for 19 years before her death and had three children together. Less than a year after her death, it's very understandable that he would not be ready to move on so soon.
John Travolta new girlfriend
For his part, Travolta isn't ready to start seeing anyone quite yet.
"John's had no shortage of friends wanting to set him up and there are a lot of women who would love to go out with him," an insider told OK! Magazine.
"John is flattered, but he just isn't interested.
"No one wants to push him because they understand he's torn between opening himself up to love again and staying single and being the best father he can be. Until John can figure things out, everyone is giving him the space he needs."
While maintaining a low profile, Travolta opened up about his grieving process in an interview with Esquire Mexico.
"I have learned that mourning someone, mourning, is personal," Travolta told the magazine. "Mourning is individual and only your own journey can heal you."
"This is different from someone else's journey. The most important thing you can do to help another when they are in mourning is to allow them to live it and not complicate it with yours. That's my experience."
Travolta is no stranger to grief. In 2009, he suffered an even more tragic death in the family: Jett, his oldest child with Preston, died of a seizure at the age of 16.
Jett was autistic and suffered from Kawasaki disease, and was prone to seizures. His son's death devastated Travolta.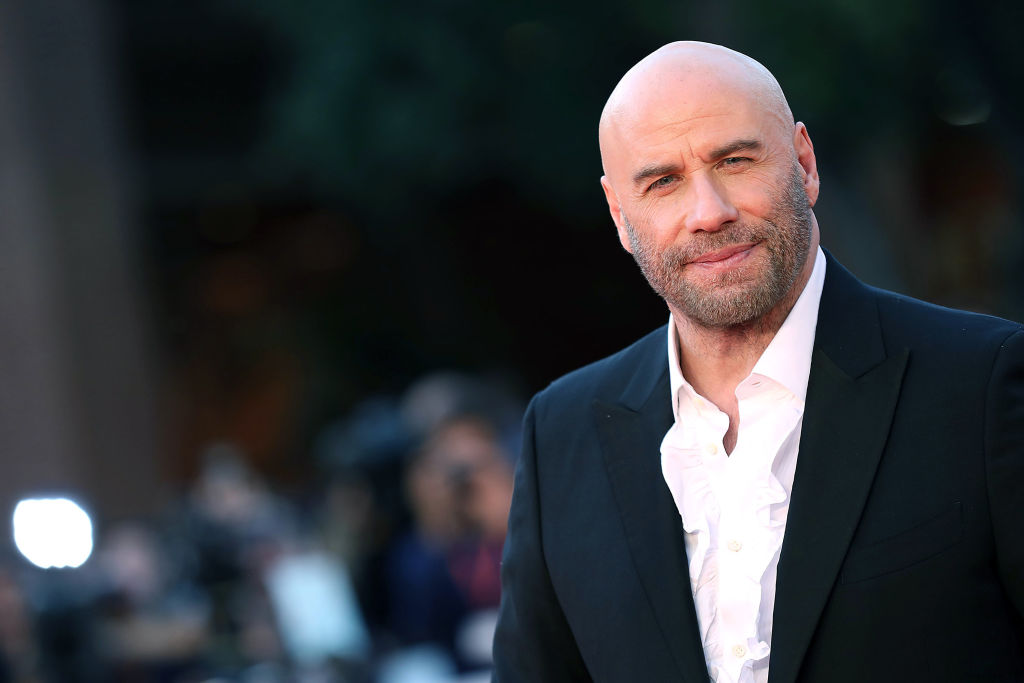 Life after Kelly
Today, two years after Kelly's death, Travolta focuses on his family and being a father. After his wife's passing, Travolta said he would be taking time from his career to focus on family, and he's kept true to his word.
One of his most prominent on-screen role in the past year was a Super Bowl commercial, which also starred his daughter Ella. The ad gave Travolta a chance to bust out some of his famous dance moves, and have some fun with his family.
For Ella Bleu, losing her mother was heartwrenching, as it would be for everyone. However, she's been following in her father's footsteps in the acting business, and her father has been very supportive over the years.
When Ella, 22, landed a role in a reimagining of Alice in Wonderland named Get Lost, John Travolta bragged about his lovely daughter. Through Instagram, he shared a picture of her daughter dressed as Alice in Wonderland.
"I'm a very proud dad!," he wrote in the caption.
The 68-year-old single dad also often posts pictures of his blonde-haired son Ben, 11. On Father's day, the Saturday Night Fever star shared his feeling about being a dad.
'"It's privilege to be a father. I love you my babies. Happy Father's Day to everyone," he wrote alongside photos of his children.
Travolta said that he's looking to help his kids as much as he can.
"I will ensure the future of my children, help them with what they want to do with their lives," Travolta said.
"The legacy is created by all the people who have loved and helped me over the years," he told Esquire. "Life is movement and a journey; what you leave behind in people, I guess that's your legacy." 
Airport mansion
Recently, John Travolta decided to sell his family vacation home in Maine, where he, the children, and Kelly spent a lot of time together.
Travolta bought the Maine estate in 1991, after his wedding to Kelly. The 10,000-square-foot property went on the market in 2021 for $5 million. It was built in 1903, and the remarkable home includes 20 bedrooms, a beach and open ocean access, and an in-ground pool.
But apparently,  the price tag proved to be too pricey but it's clear that Travolta wants to let go of their vacation home. In 2022, it went on the market again.
Today, it looks like The Pulp Fiction star spends the majority of his time at his home in Florida. The most famous and spectacular estate owned by Travolta is located in Ocala, Florida. The 550-acre property, with six bedrooms, comes with some very special features – two aircraft runways that lead directly to his front door.
Travolta, a flight enthusiast and certified pilot with the license to fly a 737 airplane, was one of the first to purchase land in the exclusive gated community in 2001.
"We designed the house for the jets and to have at our access the world at a moment's notice, and we succeeded at that. I was five years old when I fell in love with aviation. This is in my blood", John Travolta told Australia's Today.
This summer, he shared a glimpse of his family life as he went globe-trotting with Ella and Ben.
The question is, how long Travolta will keep his beloved aircraft estate, which also includes a banquet hall with seating for up to 400 guests. In 2019, it went on the market for $10.5 million.
Listing agent Bartow McDonald said:
"It's what's beyond the runway that makes Jumbolair so special. It is the ability to go anywhere in the world from your backyard."
We're so sorry for everything the Travolta family has been through lately, but we're glad John is doing well and has found some peace in the mourning process.
It is so important to be given the time to grieve and heal. It's important to be by yourself and it's also important to be surrounded by special people
Share this story if you love John Travolta.